Chemistry is more than balancing equations, learning the fundamentals, and understanding the theoretical aspects. Although many chemistry textbooks can help you understand a range of topics, courses, and more, having hands-on experience can help you understand the subject more clearly.
These model kits make it easy for the students to understand the chemical structures, their bonding, and other concepts that might seem challenging initially. Most of these molecular model kits are made to help students with organic chemistry, as this particular topic needs a practical or visual aid to understand the structure. 
Apart from all the learning aspects, this kit can also be a fun activity for students who like this subject or want hands-on chemistry experience. In all, opting for a molecular model kit is a smart choice for students having chemistry courses in their high schools or college as it can make the subject relatively easy and fun.
To get yourself the best molecular model kit available in the market, check out our top picks for the same, and choose the perfect kit for yourself or your friends!
Top 7 Organic Chemistry Model Kits
1. Happy Atoms Magnetic Molecular Modeling Set
It is the best molecular model with features and flexibility you will not find anywhere else. However, it comes at a bit high price but is worth paying for what you get in return.
The plastic models connect quickly using a magnet, saving your time, and the material quality is on par compared to other chemistry molecular model kits.
The uniqueness of the model kit is its simplicity. The color-coded atoms with clearly printed chemical names make it easy to understand for students aged between 10-17.
The model kit includes a total of 50 atoms. In the below table, you will see how many pieces you get for each atom.
| | |
| --- | --- |
| Elements Name | Number of Pieces |
| Hydrogen (H) | 14 |
| Helium (He) | 1 |
| Lithium (Li) | 2 |
| Beryllium (Be) | 2 |
| Carbon (C) | 6 |
| Nitrogen (N) | 3 |
| Oxygen | 6 |
| Flerovium (Fl) | 2 |
| Neon (Ne) | 1 |
| Sodium (Na) | 2 |
| Magnesium (Mg) | 2 |
| Silicon (Si) | 2 |
| Phosphorus (p) | 2 |
| Sulfur (SU) | 2 |
| Chlorine (Cl) | 2 |
| Argon (Ar) | 1 |
Along with this organic chemistry model, you also get additionals like their free application, a scanning mat, a drawstring storage bag, and a quick start guide.
You can build more than 17,593 different molecules, which is 34x times of what you get in its introductory set.
All in all, the happy atoms magnetic molecular modeling set is the best organic chemistry molecular model kit. The learning curve is vast, and it will become easier for you to teach chemical bonds to students or kids as a teacher or parent.
2. Chemistry Structure Kit
A human mind, regardless of age, remembers the shape and signs better than it sees in theory. In chemistry, while there are N numbers of chemical bonds available, it becomes harder to remember everything, and the chemistry structure kit exactly solves that problem.
The model kit includes 1416 pieces of molecular balls of different colors and has no marking on any of the ball pieces.
It comes with an erasable pen; you can draw the chemical compound name on balls and erase it with a microfiber cloth in one wipe.
With a lot of plastic models in a single box and a single erasable pen, you can form almost any molecular model you want as a class teacher or lab professor to explain chemical bonds in simple terms.
It is an easy-to-use color-coded model kit for schools, colleges, and university teachers to explain atoms bonds, molecular geometry, and organic/inorganic chemistry in visual language.
3. LINKTOR Chemistry Molecular Model Kit
If you are after an affordable kit, LINKTOR is undoubtedly the best option to rely on; its small box is portable, and this molecular model kit is suitable for self-learning as a student and teacher.
The kit comes with coloring balls; however, there is no mention of a chemical name on it, nor does it come with a pen like the one you get in the chemistry structure kit.
An instructional manual elaborates on the relation between the color balls and their chemical compound names, which you (as a teacher) must carry to understand and explain atoms bonds to the students.
The total number of pieces inside the box is 444. And you can form and explain the bonds to students.
It can show chemical structure, molecular bonds, and bond angles from all angles.
The manufacturer will provide a replacement or full refund if you are unhappy with the model kit, though it will hardly be the case.
4. Molymod MMS-009 Student Set
Molymold is one of the famous brands for the molecule model kit. It is suitable for organic as well as inorganic chemistry visual learning. This set includes 52 atoms and gives students a fun activity to visually demonstrate inorganic molecules, organic or inorganic structures, and formula representations.
Its atom parts are between 17mm to 23mm in diameter, with the color code of national standards. 
The kit also includes a plastic box for easy storage.
Students can model molecules like ammonia, carbon dioxide, metal salts, sulfuric acid, and calcium hydroxide. 
You can also make models of alkanes, alcohols, glucose, etc.
The kit also provides an instruction guide and a durable storage box. 
One can use this kit for classroom learning and educational training as well. This is also a good option for a chemistry molecule kit, especially for University students.
5. Old Nobby Organic Chemistry Model Kit
Old Nobby organic chemistry model kit is one of the best organic chemistry kits that is highly sold and trusted by professors and students, thanks to its affordable pricing and on-par quality.
If you are looking for a kit suitable for beginners and advanced-level learners, then you can opt for this molecular model kit. This kit is ideal for students from Grade 7 onwards. Adults can learn organic structures, inorganic structures, and functional groups.
The kit contains 239 pieces and color-coded bonds to help you make different molecular structures.
All the atom pieces are color-coded per the Universal standards, making it easy for students to learn chemistry.
As this kit comes with a detailed 8-page instructional guide, one can use it to identify all the atoms and understand structure formation.
The atoms and bonds are made of premium quality materials that can be connected or disconnected seamlessly, which prevents fatigue and strains in fingers.
The kit features a link disconnector so one can disassemble the structure once its purpose is served.
All the pieces of this kit come in a plastic box with compartments to store different types of pieces in one place. It is also suitable for professionals teaching chemistry concepts to students. This kit can also be a perfect gift for learning kids. 
6. Duluth Labs MM-003 Student Kit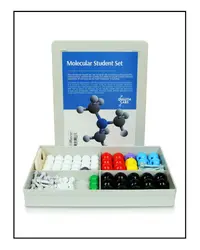 This molecular model kit is durable, fun, and under $30, it is the best one by Duluth labs. The kit features 54 atom models along with 70 bonding parts, which are quite flexible and user-friendly. The kit is ideal for people pursuing Chemistry I, Chemistry II, Biochemistry, and other such courses. 
The atom models in the kit provide the students with a practical experience of chemistry, functional groups, and molecular structures.
The high-quality plastic atoms are durable and color-coded to universal standards.
Students can quickly identify the atoms and connectors as all the necessary instructions are given in the molecular set's instruction manual.
All the parts in the are easy to assemble and disassemble. It also includes molecular tools and atom connectors for making different structures.
This chemistry molecule kit is a great gift that you can give to aspiring young scientists. 
It helps to understand chemistry easily, as students can visualize complicated molecules in 3D space.
This model kit is designed to be bright and attractive. The models are color-matched to the elements of the periodic table. So get yourself this kit if you want to learn more about bonding, structures, functional group, and more.
7. Atomic Architect Organic Chemistry Molecular Model Kit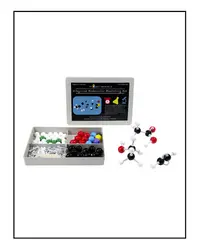 Another excellent option that you can consider for getting a chemical model kit is this one by Atomic Architect. It is designed to make chemistry a fun subject to learn. The kit also makes it easy to balance chemical equations and understand the structures of cyclic compounds. You can also build organic structures and biology models with the help of this set.
It includes 124 pieces in which there are 54 atoms and 70 bonds. These pieces can help all learners, whether they are in grade 7 or graduate students.
One can learn molecule science in 3D with the aid of this kit. Apart from that, it helps to make the atomic structure fun and interactive activity.
It is also manufactured from durable and high-quality material so that the construction of the models can be easy and the structures have a perfect fit.
The manufacturers of this molecular modeling kit give you a 100% money-back guarantee. Yes, that is correct! Moreover, just like the other kits, pieces of this set are also color-coded for easy identification. It is easy to carry everywhere.
Concluding Remarks
I have made sure to include various types of kits suitable for beginners, students, and even professionals. While picking up the best options for molecular model kits, I only included the kits with color-coded atoms and elements. This makes the process of building structure easy and also speeds up your learning. Apart from this, most of these kits are suitable for both organic and inorganic chemistry. 
Opting for such kits is more beneficial than textbooks because these kits can visually aid the students in understanding the concepts with clarity. Depending upon all features you are looking for, you can choose the kit from this list that best suits all your criteria and budget. 
What is model kit chemistry?
It is a kit containing rounded plastic models with sticks to explain the visual representation of chemical bonds to students new to the chemistry field.
What is the best model for representing a molecular substance?
Molecular structures are frequently shown using the ball and spoke models. A colored ball is used to symbolize each atom, and spokes are used to connect the balls to other particles to depict the bonds that bind them. This kind of model places a strong emphasis on atom-to-atom bonds.
Why do chemists use molecular models?
The chemist uses molecular models because molecular modeling offers a vibrant collection of tools to translate fundamental scientific concepts from quantum and statistical mechanics into a high-resolution understanding of biomolecule structure-function correlations.