To give a present is the perfect way to express your feelings or emotions, to show your love, respect, guilt, or anything which can make someone happy. It is said that the price of the gift doesn't matter, but thoughtfulness does! The present that suits the personality, intellect, and interest of the person you give the gift to is the best thing you can do for them. 
People adore it when the given presents are thoughtful and valuable to them. It shows your efforts and seriousness. Since I am sharing a lot of chemistry-related information on this website, I thought of sharing some of the best chemistry gifts for students, teachers, and nerds. Note. These are the ideas to help you buy a gift for a person who is an avid chemistry field newbie, intermediate, or experienced one.
7 Best Chemistry Gifts
1. Colored Periodic Tables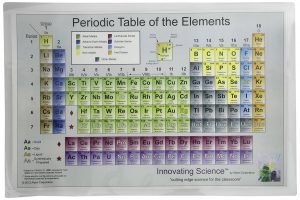 All the chemistry lovers' first love is their periodic table. It is necessary and always on the top of the students' priority list because of its use in predicting different types of chemical reactions. So, what can be a better gift than a colorful and laminated periodic table? 'Innovative Science' is the creator of such beautiful periodic table gifts.
Features and Benefits
It is a laminated periodic table, which is durable and long-lasting.
It is color-coded, so it becomes easy to distinguish the metal or nonmetal elements, solids, liquids, or gases.
The length of the table is around 11 inches, and the width is 17 inches.
You can frame and hang it right in front of your study table for easy access.
Any 13-year-old or more age group can use this periodic table comfortably.
---
2. Laboratory Beaker Mug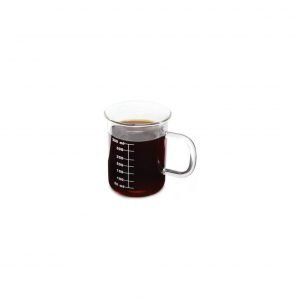 Isn't it cool to give a present representing the chemistry lover's passion? This product is like that. It portrays the incredible interest of the person who loves chemicals and coffee. So here is the idea. A beaker mug!
Features and Benefits
This cool mug is perfect for your hot coffee as sturdy glass makes it with a beautifully molded glass handle.
This 400 ml mug looks like a beaker and is measured at 350 ml. 
The weight of the beaker mug is just 6.4 ounces with the dimensions of 5 x 4 x 5 inches.
If you are finding some excellent gifts for chemistry nerds, you should definitely try this beaker mug. Coffee is chemistry, so it will be more fun when you present the chemist with this type of product. Never forget the chemistry love and drink coffee from this 400 ml beaker mug.
---
3. Organic Chemistry Molecular Model Kit
Do you want to help your students by giving useful things which can evolve them being chemistry pupils? Then provide this fantastic molecular kit of organic chemistry. Such kits are trending when we discuss 'chemistry gifts for students.'
Features and Benefits
It gives practical explanations to the children and can make complicated models understandable.
It contains 88 atoms and 140 bond parts.
Anyone can quickly assemble and disassemble the tools, fragments, and connectors.
The kit's instructions allow students to access the atoms and connectors easily. All particles are made from plastic and coded with different colors according to universal standards.
Molecular model kits are durable and flexible. I recommend gifting it to the birthday person and getting one for yourself. It becomes easy to visualize complex molecules in 3D space.
---
4. Rainbow Lanyard of Periodic Table
Just in case you have any confusion about the term – lanyard of the periodic table – I want to clarify that yes, this is a short length of rope for securing something, but with the periodic table printed on it! That means it can ensure your chemistry too! 
Features and Benefits
The stripe (ribbon) is made from polyester material, which is approximately 36 inches. When it's folded in half, there is the 18-inch lanyard.
There is a 1.5-inch metal clip to hold the belongings.
The fabric used in the rope is fade resistant.
It is printed on both sides so that you can get the double-sided benefit of the periodic table.
The rainbow-colored lanyard is one of the best gifts for chemists. One can put car, lab, or classroom keys on it.
---
5. Molecule Necklace
If you are wondering about a chemistry teacher gift or some beautiful gifts for the girls who love science, you can choose Rosa Vila Jewellery. The manufacturer provides incredible molecule necklaces with unique colors like carbon black, gold, rose gold, and silver.
Features and Benefits
This necklace is unique as it is created with the ideas and imaginations available in our chemistry molecules.
The manufacturer offers a fantastic discount of 15% off if you buy more than two necklaces.
They are the perfect gifts for chemistry majors as such designs contain the chemical structure of serotonin, which defines neurotransmitters of our well-being and happiness.
It looks modern and extraordinary. So, people who wear such necklaces may feel super confident wearing in-fashion jewelry.
The pendant is attached with a 19-inch chain with a lobster clasp closure.
This gift can give you lots of love from your loved one as it proves that you can also show your nerdy side!
Why only for gifts? If you are a girl who adores the geometry of molecules, then you can wear this beautiful piece of art and see how others appreciate you! Take away this organic chemistry jewelry now!
---
6. A Mug To Keep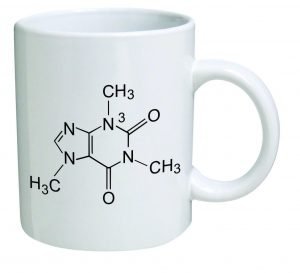 I am in love with this product. I find it funny as it shows caffeine molecule structure. There is no rocket science why chemists and scientists love coffee! It is needed, and we can all relate to it, somehow! 
Features and Benefits
The molecule prints are on both sides of the mug.
The mug has been made with high-quality ceramic.
The material used in the cup makes it safe for the microwave. Even a dishwasher won't harm this large and sturdy mug.
It comes with a robust ceramic handle with the proper grip.
It is not too heavy to handle. The item's weight is just 385 grams.
This mug will give you the right to drink coffee with style. It is funny, sarcastic and inspires many scientists to work for their goals with the bit of help of coffee. Gift this humorous mug to your loved ones or even yourself!
---
 7. Periodic Table Pen
If you give someone a gift, that must be unique and out of the box! Innovative Science presents a creative pen that includes the whole periodic table! Amazing. Isn't it?
Features and Benefits
The pen is just like a regular pen, but the periodic table is made of paper, including every element.
It gives an accessible look at the periodic table and is handy. You just have to care about the pen, not the periodic table.
The table is color-coded so that it becomes easy to distinguish all the metals, nonmetals, and different types of elements.
Any 13 years or older student can use this pen. It can also become one of the best chemistry teacher gifts.
Apart from all these things, one best thing about this tiny pen is that the periodic table is printed on both sides of the small reference chart. So, if you need the pen and periodic table often, this is the perfect thing to keep.
So guys, have you decided what you want to buy for your chemistry teachers, professors, or some other chemistry nerds like you? Not yet? Yes, it is pretty tricky to choose one as each item is so cool and up to the mark. Take your time and buy cool stuff to surprise your loved ones with such beauties. I wish and hope that you like all of my choices of gifts for chemistry nerds! Happy Shopping!
What do you get someone who loves chemistry?
Gifting a chemistry-related gift is worthwhile when a person is about to begin their study in the field; I have shared the ideas in the article. However, a chemistry lover is also a human, so you can gift them their favorite thing they have wanted for s field.
Are there any helpful factors to consider when buying a gift for chemistry field people?
You know the person whom you gift. Who is that person? A student (kid in Grade 7, high-school student, college or university student), teacher, lab expert? By defining that person, you get to know what you need to buy.
Is a periodic table a good choice?
I bet, definitely. A periodic table is a baseline for every chemistry person. Not all people can learn the table immediately, making it a worthy gift for chemical people.