Inorganic chemistry is one of those topics that is liked by all. Due to its simplified concepts and a wide range of topics, students always enjoy inorganic chemistry more than any other course. While researching for finding the best general chemistry textbooks, we came across some excellent picks for inorganic chemistry textbooks. 
This chemistry branch is a study of inorganic compounds that are not carbon-based, their synthesis, uses and more. While curating the list of top-rated and best inorganic chemistry textbooks, we made sure that the textbooks include all the needed information and are helpful for both beginners and professionals. Check out our picks and get yourself the textbook to help you learn the topics with more clarity.
| | |
| --- | --- |
| Inorganic Chemistry Textbooks | Our Review |
| Inorganic Chemistry 5th Edition by Gary Miessler | Our recommendation for understanding the basics of inorganic chemistry |
| Inorganic Chemistry 5th Edition by Catherine Housecroft | Our top pick for the best inorganic chemistry textbook |
| Weller Inorganic Chemistry | Suitable for students looking for introductory inorganic chemistry courses. |
| Advanced Inorganic Chemistry by F.Albert Cotton | Only recommended for people interested in advance inorganic chemistry and for students having such courses. |
| Chemistry3: Introducing inorganic, organic and physical chemistry | Ideal for general chemistry course as it includes all the topics right from physical chemistry to inorganic chemistry. |
Best inorganic chemistry textbook
1. Inorganic Chemistry 5th Edition by Gary Miessler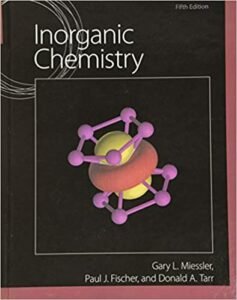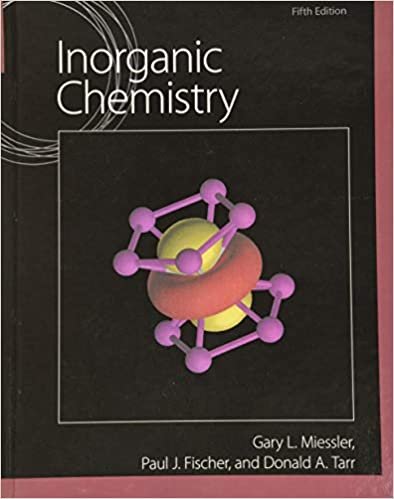 We first start with the basics of chemistry as it is vital to have a clear understanding of the fundamental concepts to learn advanced topics. So our first recommendation for an inorganic textbook that can help you with inorganic chemistry basics is this textbook by Gary Miessler, Paul Fischer and Donald Tarr. This is the revised and reorganized version of the textbook covering all the basics of inorganic chemistry accurately and helps students understand inorganic chemistry with ease. 
Key features:
The textbook gives an introduction to inorganic chemistry and its topics such as atomic structures, bonding theory, reactions and mechanisms, organometallic chemistry and more.

The book has

clear visual representations

of several topics to enhance the reader's experience.

The authors have kept the language

relatively easy to read

and understand for a better learning experience.

This inorganic chemistry textbook

emphasizes physical chemistry concepts

to provide students with the theoretical basis of the concepts.

This new fifth edition of the textbook has a reorganized chapter of molecular orbitals, group theory highlights and covers key principles more vividly

than the previous versions.

---
2. Inorganic Chemistry 5th Edition by Catherine Housecroft
One of the most popular inorganic chemistry textbooks is this one by Catherine Housecroft. Students and professionals like this textbook because of its comprehensive description about the topics. The language is quite engaging and easy to understand. The fifth edition of this book is an updated and revised version that is up to date with the latest research. It also covers the extended periodic table and other additional topics such as bonding classifications of organometallic compounds.
Key features:
The book has a lot of

colourful illustrations

, diagrams and 3D structures for better understanding.

It also has

thematic boxed sections

that focus more on the applications of the theory, medicine, environment, and more to engage students and help them gain a

practical understanding of the topics

.

The book is well organized such that one can find the

definition panels

and checklists at the end of the chapter for quick revision and references,

At the end of each chapter, there are

self-study exercises

to help students revise the concepts.

All the protein and molecular structures are well illustrated in the textbook, making this book a

visually engaging

one and the only book to have such striking visuals.

---
3. Weller Inorganic Chemistry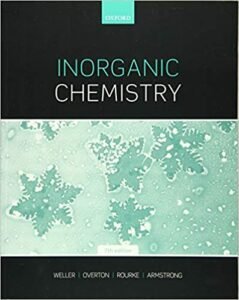 Our next suggestion for getting a textbook that offers a comprehensive understanding of the topics is this textbook by Max Weller and his co-authors. It has a more detailed explanation about the concepts than the other two options suggested above. Previously known as the Atkins Inorganic Chemistry, students consider this book go-to for understanding the concepts with clarity. However, this textbook is more suitable and preferable for students who are already thorough with inorganic chemistry basics. It is the best textbook for someone looking for a medium to advanced inorganic chemistry.
Key features:
The book features the latest green chemistry applications to help the readers know the significance of the concepts and help them gain

practical use of the theoretical concepts

.

Students can find it easy to check their knowledge and learning by opting for

self-tests

given in the book.

It also features walk-through explanations to understand key concepts better and enable students to

develop their problem-solving skills

.

It was last updated in 2018, and this is the 7th edition of this book updated by Max Weller, Tina Overton and Jonathan Rourke.

---
4. Advanced Inorganic Chemistry by F.Albert Cotton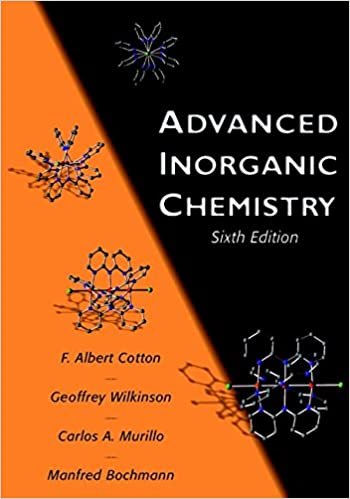 If you are particularly searching for a textbook that can help you with advanced concepts of inorganic chemistry and its applications, then this textbook would be our recommendation for you. People planning to pursue a career in chemistry should consider this option as it covers topics such as organometallic chemistry. More than a textbook, many people like to use this textbook as a reference for understanding the concepts with more clarity. However, if you are a beginner and want a textbook with basic inorganic chemistry topics, this textbook will not help you.
Key features:
This textbook is suitable for undergrads, grads, professors and even for people who enjoy learning chemistry.

The authors have

updated the book

with all the latest development in the field.

It has a

detailed coverage and explanation

of many inorganic chemistry topics that makes it one of the most popular textbooks for inorganic chemistry.

The textbook describes all the compounds for the element along with its bonding and reactivity, making it easy for the readers to find the relevant references for a particular element.

---
5. Chemistry3: Introducing inorganic, organic and physical chemistry
Our last pick for finding a textbook covering a range of topics and courses of chemistry is this Chemistry3 textbook. The team of authors has worked to enable students to see chemistry as a whole instead of learning different topics and not understanding its uses, connections, or applications in other branches of chemistry. It is a conscious effort of authors to help students learn chemistry as a single discipline. This book can be ideal for the students going from school to undergrad as this textbook covers all the concepts quite well.
Key Features:
The authors have kept the approach quite

mechanistic for a better and detailed understanding

of the fundamental concepts.

This textbook gives

equal coverage

to organic, inorganic, and physical chemistry to learn the course with all the topics in one place.

The textbook's language is

reader-friendly

, and authors have opted for worded explanations to help students understand the concepts.

The textbook gives an introduction to concepts with a more

logical approach

.

It also features annotated diagrams and step by step worked examples for engaging the students while learning chemistry.
Cross-reference sections

are also provided in the chapters throughout the textbook to understand the connection between two chemistry topics.

---
Concluding Remarks
Making choices is never easy; is it? But we have to finalize one every time. While making a list of the textbooks, I have considered several factors such as the textbook's language, author's approach, topics covered, and its suitability. Many of the options stated above are preferable for undergrad students. Depending on what level of knowledge you already have when it comes to inorganic chemistry, you can choose the one that best suits your preferences. My recommendation for getting an inorganic chemistry textbook that covers all the courses comprehensively and visual aid is the one by Catherine Housecroft. 
Let me know in the comments below which one you bought and if there are any other textbooks that we can add to our list.