People who are into the research field know how difficult it is to stand all day and carry out all the experiments. Due to long hours of work people who work in laboratories complain about the pain in feet, legs and even back.

As their work requires constant standing and walking there is a need for footwear that is comfortable and durable. Generally closed footwear or shoe is recommended for laboratories as there are a lot of chemicals around them with they are dealing on a regular basis and hence a shoe is the most preferred type of footwear for both men and women. There are many options available for the footwear that one can wear at a workplace. The shoes should have a good grip, should have a soft insole and a durable sole. So that it lasts longer and doesn't cause cramps in feet and back.
To help you decide better, I have selected such options for footwear that are available in the market that can be used for wearing at workplaces. There are options for men as well as women in the below-stated list of the best laboratory footwear. All these shoes are comfortable to wear all day.
Best Shoes for Laboratory Work
1. Dansko Women's Professional Mule
Dansko mules are the number one choice for working women. These mules are specially designed for the use in laboratory and other workplaces as well. It also heels that measures approximately 2 inches which are perfect for daily use. The mule has polyurethane sole.
The shoe is made of 100% leather.
It is designed uniquely to provide comfort and all-day support.
It is effortless to clean it as you need a damp soapy cloth or sponge to remove the dirt and dust.
It is handmade with staple construction that protects the feet, legs and back from the stress of continually standing or working.

---
2. Winter Safety Shoes for men
This pair of shoes is the first choice by many customers online as it is soft and has a comfortable insole. The midsoles are of thick anti-piercing steel. The steel in the toe cap is safe and is made up of anti-smashing steel. It is recommended to clean these shoes regularly to extend their longevity.
The sole is made up of a solid rubber that gives a good grip.
The inner lining of the shoes has a breathable mesh that helps in keeping the feet dry and comfortable.
As it has a stable grip on the ground, it is a non-slip and is a wear resistant pair of shoe.
It is a steel toe that is quite light in weight.
These shoes can be worn at work or even for casual outings.

---
3. Avenger Women's A7150 Safety Shoe
Avenger women's footwear is of premium quality and is designed with innovative techniques that meet the high safety standards in the industry. The shoe is comfortable and stylish which is a perfect option for all the working women. It has full grain leather and a rubber outsole.
The footwear is made up of 100% leather.
The shoe also has perspiration absorbing dual-density PU insole.
It has a fiberglass shank and composite safety toe.
The footwear has been tested by the independent labs to check if it is suitable for wearing it in labs and other workplaces.

---
4. Skechers for Work Men's Shoes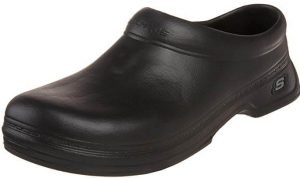 Skechers footwear is liked worldwide as the quality of the shoes is excellent. This Skecher clog is comfortable and easy for feet. It is 100% synthetic and has a rubber sole. It also has a removable PU comfort insole and one-inch height heel. The footwear is specifically for men.
The clog style shoes are light in weight and quite flexible which makes it unique.
There is a shock-absorbing padded footbed that is removable too.
As it has a slip-resistant outsole, it can be used for wearing it for the outings as well.
The shoe also has a contoured arch that gives extra comfort.

---
5. HKR Women Lace Up Suede
The footwear is a premium quality suede recommended for all the working women out there. Along with comfort, it gives a stylish and classic look which is like a win-win situation for all the working ladies. It has a wide width round moc toe along with stitched detailing. These shoes are comfortable to wear all day and for outings too.
This footwear is a slip-on wedge sneaker which can be styled with any outfit and can be useful for wearing as usual shoe too.
It has a soft pigskin leather lining which is comfortable and breathable.
It has a classic adjustable two eyelets lace-up that helps in achieving that perfect fit.
As it has a PU sole, the footwear is lightweight and durable.
It is available in colors such as black, tan, grey, etc.

---
I hope this article helps you in finding the perfect footwear that you can wear at laboratories. Most of these shoes can also be used for other workplaces that have long working hours or for those who stand or walk continuously. Take care of your feet now by giving it the utmost care and comfort.