Are you someone who is struggling with chemistry subject? Don't worry; we have a solution. Chemistry sometimes becomes a challenging subject for the students to study. There are a lot of chemical formulas, structures, reactions, calculations and much more to remember in this subject. With the advances in technology in the field of education, many apps are available today, particularly for chemistry. A smartphone is something everybody has today. It is very convenient to get these apps that help you with studying the chemistry subject.
Apart from phones, you can also use these apps on an iPad. To help you with preparing for the exam at your high-school or university I am going to list down all the best apps for chemistry for students as well as professionals. All these apps are available both for Android smartphones as well as the iPhone. Some apps are available for free that can help the high-school students for learning chemistry easily. Read the list of the best apps for chemistry given below:
Best Chemistry Apps for Android and Iphone
1. Chemistry Master 2019
The reason for placing this app at the top in my list is that it is the most helpful app that can be used by all levels of students studying chemistry. The app has free chemistry topics, molar mass calculator, the periodic table, a list of elements along with their isotopes and photos and much more. The app basically includes all the information that you require to study and learn chemistry. It can help to clear your concepts, to prepare the exams and also for helping you with the chemistry homework.
2. Periodic table
One of the most popular apps is this app – Periodic table. Everyone who studies chemistry knows how difficult it is to remember all the elements and their arrangement in the periodic table. While there are apps available for the periodic table, this app is loved by the students because it is user-friendly. The app also shows the trends in the change in temperature, electronegativity, atomic radius, etc. as the elements are arranged in the table. It is easy to scroll through the table and also watch videos and podcasts about the elements. The app is free for both Androids and iOS.
3. WolframAlpha
The reason why this app is on this list is because of its use in all science subjects. This app consists of all science subjects such as physics, chemistry, mathematics, etc. All the critical formulas and information on each topic is covered very efficiently in this app. This app can be helpful for the students who are looking for an all-in-one app. This app is handy and has vital information for studying chemistry and preparing for the tests as well. It is a bit expensive, but hey it covers all the subjects, so it is a good deal.
4. Socratic by Google
One of the most popular apps among students learning chemistry at school and high-school level is Socratic. It is a learning app powered by Google AI. The best feature about this app is that it helps you find the relevant information for your topic using the online resources.
The application is also equipped with the feature to use the camera and voice to understand concepts, equations, and other information with more clarity. This mobile app can aid with finding explanations, charts, videos and more on the app. And apart from chemistry, one can also use this app to learn other subjects such as physics, biology, algebra and more.
5.  Chemistry Dictionary
Students starting with their chemistry courses often find it challenging to keep up with terminologies and formulas used in various chemistry topics. But what if an app could help you with learning these terms and definitions? Chemistry Dictionary application provides the students with terms, pronunciations, formula and synonyms used in chemistry. Knowing all this can make it easier for students to learn the topics without searching for a particular term on the internet every time you come across a new term.
As it is a learning app, reader-friendly language is used to make it convenient for students. People pursuing higher degrees in Chemistry can also use this application for quick revision and references of chemistry terms. 
6. Molecule 3D
Are you looking for an application that can help you understand the structures of molecules better? If yes, then this application can be of great use to you. Molecule 3D is an application that allows you to view the 3D molecule structure in different stereo modes. As it gives the structures in three dimensions, it becomes easier for users to understand the complex molecules.
7.Chemistry and Periodic Table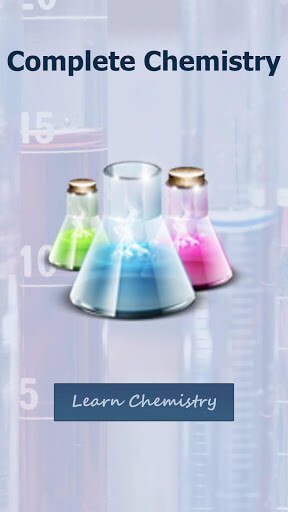 One of the coolest chemistry apps that we came across for android and iOS users was this app. This application is the best chemistry app for android and iOS as it allows users to solve chemical equations and access the Periodic table simultaneously. This makes it easy for students to solve the equations within seconds.

It can also help users find the equations for chemical reactions, even if one of the reactants or products is unknown. The periodic table displayed in the app is quite interactive, meaning you can tap on the particular element to find more about it. Who thought chemistry would be this easy to learn? Get this app now, and thank us later.
8. Organic Reactions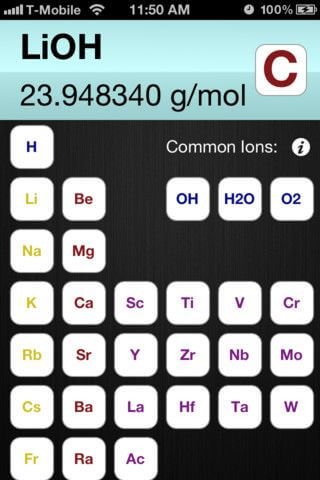 Do you struggle to remember the functional group and mechanisms while studying organic chemistry? Then you can get this application and bid farewell to these problems. Organic Reactions is a free chemistry app available for iOS users. It allows the users to know the mechanisms, the main functional group of the molecule and its reactions with just a click.
It also has information regarding the synthesis and protection reactions in organic chemistry. The application also helps students to find the direct link between reactants and corresponding products to understand the reactions better.
9. Chemistry Formula Practice
This app is helpful for students who have troubles while remembering and understanding the formulas. It helps the students to understand the fundamentals of the naming of elements along with writing formulas. It has a practice section that includes molecular and ionic compounds, acids, bases, hydrocarbons, organic chemistry and much more.
10. Learn Organic Chemistry
If you ask a chemistry student which topic is the most difficult one in the subject the majority of them will answer that it is Organic chemistry. It is tedious to remember all the structures, formulas and reactions in organic chemistry. 
For rescuing all the students there is this app called learn organic chemistry that has all the detailed information on the concepts of organic chemistry such as aldehydes and ketones, acids and bases, alkynes and alcohols, isomerism, reaction mechanisms and much more. This app is rated the best for learning organic chemistry among the apps.  
11.Chemistry Mobile 
Chemistry Mobile app is best suited for beginners in learning chemistry. The app has all the essential features such as the periodic table, information about different chemical elements, molar mass calculator. It also includes a unit converter which is helpful for the people who have just started learning chemistry. The app has a user-friendly interface which is convenient for everyone to use.
12.Chemistry Notes
This app is recommended for class 11 or college going students. The app is an excellent app to learn all the essential aspects of chemistry. It includes the basic concepts of chemistry, atomic structure, thermodynamics, redox reactions, chemical bonding, molecular structure, classification of elements and periodicity of properties and much more. This app is beneficial for the students as it becomes handy to learn everything in one app at a time.
13.Chemistry Calculator
This chemistry calculator app has the best calculator for calculating molar mass, mass percentage, empirical formula and basic solubility rules. It also features subscript support in chemical formulas and also the ease of switching between numbers and letters while doing calculations for reactions. This app is of great use for chemistry class calculation and even for doing the homework. The app also includes information for all elements.
14.The elements by Theodore Gay
Another excellent app for learning chemistry the easy way is the elements by Theodore Gay. It shows all the elements of the periodic table; also it tells the history and the story of each element. It also helps in getting the information regarding how the universe was made.  This app is to use and informative which students can use this app to understand the basics of the element table very quickly.
15.Learn chemistry via videos
This app is best to learn and know the basics of chemistry and other topics such as atomic theory, orbital filling, hydrocarbons, organic chemistry, quantum numbers, equations, reactions, chemical kinetics and much more. The app is easy to use as it has small-sized chapters for quick learning. It also has quizzes that you can solve and do a self-assessment. The critical feature of this app is that it shows flashcards to memorise the essential concepts.
Concluding Remarks
So these are the apps that will be helpful to all the people struggling with chemistry subject and also to the ones who want to practice and revise the topics before the exams. I have made sure to include different types of apps for various categories in chemistry. You can choose the app which is best suited for your study and exam purposes.