Our body has the ability to heal itself naturally, and doctors know this thing very well. Platelet-rich plasma therapy is a kind of regenerative medicine, and it is used to harness those abilities and boost the natural growth factors used by our body to heal tissues.
Plasma is a liquid part of the whole blood, mainly made up of water and proteins, and it provides a medium for our blood cells to flow in the body. Activation of platelets plays a key role in the body's natural healing process. Platelets cause blood clots and other essential growth healing functions.
Platelet-rich plasma therapy accelerates the healing of injured tendons, ligaments, muscles, and joints by using injections of a concentration of a patient's own platelets. Platelet viability greatly relies on the PRP kit used to make the platelet concentrate, and in this process, the PRP centrifuge plays a critical role.
Best Centrifuge for PRP
A PRP centrifuge separates different types of blood cells from the concentrated platelets needed for Platelet-rich plasma. So, what is the best centrifuge for PRP treatment? It depends on what type of PRP therapy a patient requires and the PRP kit used to activate and recover platelets. When it comes to choosing the best PRP centrifuge, it also depends largely on the experience of the practice and the results from the treatments. 
Three types of PRP kits can be used to get platelet concentrate:
Gel Separator System
This system uses osmosis to capture the platelets concentration in a gel layer separated from the white blood cells (WBC) and the red blood cells (RBC). In this kind of centrifuge system, the platelet count remains lower than in the other systems. But it also provides the plasma with a lower leukocyte count.
Buffy Coat System
Kits with a buffy coat trap the WBC and the platelets in a layer above the separated RBC layer in the final sample. In this centrifugation, it is easy for a laboratory to obtain a sample with a high platelet count. But the buffy coat also traps the WBC for a substantial leukocyte count. 
Double Spin Buffy Coat System
The other cell types can be filtered away from the final sample in a better way by increasing the centrifugation. And this helps increase both platelet recovery and platelet viability in the concentrated PRP sample. 
By adding a double spin to the buffy coat system, the platelets concentration factor can be increased as almost pure concentrated platelets are likely to stay in the plasma layer to obtain a better PRP sample. Therefore, the concentration of the platelets will be even higher as this system can completely remove the RBC.
Our Top Picks
There are low-speed and high-speed PRP centrifuges available in the market. Picking on one can be challenging as there are brands you might have never heard of or have no idea what to look for in a PRP centrifuge.
Fret not. We have compiled the list of six best centrifuges for PRP on which you can rely.
1. HWLAB Centrifuge Machine
The HWLAB Centrifuge machine comes in a bright red and blue color combination to quickly identify on the table when you seek PRP centrifugation. Apart from its appearance, the device is compact, saving space on the table.
Following are the box contents:
1 x HWLab 1K-12 Centrifuge (12 Speeds)
1 x Circular Rotor (Holds 6 1.5mL/2.0mL Tubes)
1 x Strip Rotor (Holds 16 0.2mL Tubes)
6 x 0.5mL Adapters
6 x 0.2mL Adapters
1 x USA Power Cord
1 x User Manual
1 x Year Warranty
Its buttons are similar to a retro game electronic device that many of us used to play in our childhood and is fun to use. The controls are easy to understand. There is a power switch, lid open/close, speed control, and start/stop button.
The device is well-built, and the rotor inside does not make wild noises when operated at its peak. And not to mention, it comes with a twelve-speed adjustment that varies from 1,000 – 12,000 RPM.
Pros
Up to twelve-speed adjustment
Compact and sturdy
Silent centrifuge operation
Easy controls
Cons
2. Dolfinie Digital Centrifuge Machine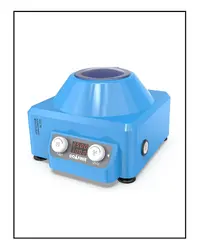 If you're after something subtle and affordable, Dolfinie is probably the best brand you can trust, and their mini centrifuge for PRP costs just under $100. It is a compact yet feature-loaded device for small labs, personal workspace, and student use.
You can load six test tubes filled with a sample density of less than 1.2g/cm. The machine has a push-button power switch on its right side, and on the front, there are two knobs (one for time – one for speed), and in between the regulators, there is a display showing RPM and time.
Useful Read: Microcentrifuge Tube Rack
As mentioned earlier, it is for low-density samples like human blood or urine. The brand's patent design works flawlessly, and the rotor stays steady at its peak rotational speed of 3,500 RPM.
If you use the device at its maximum speed for a more extended period, you will notice that the motor is generating heat, which is fine, and it happens with all motors when they rotate at high RPM. We suggest that if the sample you are testing is of utmost importance, try using multiple centrifugations to achieve the same effect rather than doing it in one go or purchase a more capable PRP Centrifuge like HWLAB Centrifuge Machine.
Pros
Affordable
Easy to use
Minimalistic design
Cons
Only for low-density samples
3. Lab Fish PRP Benchtop Centrifuges Machine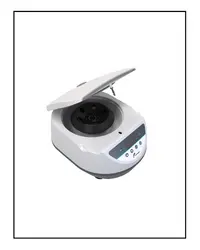 LAB Fish is a balanced choice in terms of price and usability. It is the best centrifuge for PRP with the simple yet premium-looking device and customer ratings across the web that no centrifuge device has had in its competition. Here's a quick overview of its specification:
| | |
| --- | --- |
| Model | LC-6S |
| Highest revolution | 500 – 5000 RPM |
| Maximum relative centrifugal force | 3074xg |
| Maximum capacity | 6 x 15ml(Centrifuge tube) |
| Speed accuracy | ±30r/min |
| Timing range | 10s-99min59s |
| Machine noise | ≤60dB(A) |
| Power supply | AC220V/110V-50Hz 5A |
| Total power | 130W |
| Size | 370 x 320 x 240mm |
| Weight | 5.5kg |
What is not mentioned in the specification table is that even though the test tube capacity is 15ml, you should not fill it completely, keep it at 80% or lower to get the best result.
It comes with an intelligent electric lock. In simple terms, once the PRP centrifugation process is complete, the lid will automatically get opened without needing to press the button.
Apart from PRP, the machine can also be used in the medical cosmetology industry, PRF extraction, serum and fat separation, etc.
Pros
Smart lid open
Quality display
Reasonable price
Cons
The RPM range could have been more
Also Read: Best Benchtop Centrifuge – A Must Have Laboratory Equipment
4. DEJUN PRP Centrifuge
DEJUN PRP Centrifuge comes in a box-shaped design. It features an aluminum rotor which we haven't found in the earlier three products, and here's why having an aluminum rotor is beneficial:
It can handle high temperatures without a problem and cools quickly, as most laboratories are facilitated with AC.
It looks good and can hold a large capacity.
It uses a brushless motor rather than a carbon brush because it has a longer lifespan. It has an easy digital display and microcomputer control with automatic RCF calculation and setting.
The motor provides a sound-free operation at high revolutions, and the vibration is almost null. The unique feature of this PRP centrifuge is that you can change the speed and time parameters in between to get the expected results.
It is frequently used in the qualitative examination of plasma in life sciences, cosmetics, health care, nutrition, and chemical and biological laboratories.
Pros
Silent operation
Aluminum rotor
Wide application
Cons
5. ONiLAB Lab PRP Benchtop Centrifuge
ONiLAB PRP centrifuge is a regular lab device with features that are not necessary, and we think manufacturers can save a bit of cost on that one; however, there is one feature we like to mention. Its lid opens when the procedure is done. Noticeably, it only opens when the motor inside stops to nullify the chances of accidents, which is crucial in sensitive testing.
The useless feature we find is the P1/P2 buttons. According to the manufacturer, they help with the easy start. If both of them do the same job, why not provide only a start switch?
It has an exciting design, the transparent lid dome with the black shadows improves the shine of your lab, and you can see the test tube rotating while it's in process. You will also be able to feel the heat if running the machine at high speed for a long which is normal and nothing to worry about.
Pros
Good safety measurements
Highest RPM up to 5000
Competitive Pricing
Cons
6. Cekegon PRP Centrifuge Machine
The Cekegon PRP centrifuge looks like a miniature volcano, and you will feel the heat as its high-quality device starts running at its full potential of 4000RPM, more than enough to centrifuge the PRP sample.
You don't have to worry about the heat. It is widespread that a centrifuge machine generates heat after the procedure.
What we find best about this PRP centrifuge is its pricing; we consider it the best value-for-money product. It fulfills the motive at a reasonable cost while providing a subtle design, digital display, time and speed regulator, and 1-year warranty.
Pros
Wide application
Convenient design
Precisely calibrated regulators
Cons
Weight carrying capacity is low
Our Verdict
Finding these six best centrifuges for PRP was like finding a needle in the haystack. But we have done the job, so you don't have to; from the list, you can pick according to your budget and requirement, as pointing the finger at a particular PRP centrifuge is not a correct solution. We hope this article helps you find what you are looking for; if not, let us know in the comment with details.
At what RPM do you spin PRP?
The RPM and time of the PRP centrifuge can differ depending on gender; for example, 3,000 RPM at 3 minutes for women and 3,000 RPM at 4 minutes for men.
Why do PRP centrifuge heat after rotating at high RPM?
The electricity required to move the motor at a pace of up to 3000 RPM requires high power, and the coil inside heats up due to high-speed rotation and power consumption. Also, the coil used in the motor generates heat pretty fast, which is why you notice heat around the machine.
Which test tubes are best for the PRP centrifuge?
Two PRP preparation tubes are needed: vacuum-sealed blood centrifuge tubes and blood collection tubes.