The Microcentrifuge tube rack is a simple yet essential and valuable accessory for the lab. It helps small samples organized, which you can later access without wasting time sorting which one is where.
A typical capacity for a Microcentrifuge tube is 0.5 – 2.0mL. These small sizes, cylindrical-shaped tubes with conical bottoms hold a small quantity of chemical or sample you want to test.
The requirement of this shelf arises because there are more than one samples to centrifuge inside a centrifuge machine.
If you are looking for a new Microcentrifuge tube rack or to replace your existing one with better ones, I have compiled some of the best racks you can check out.
Best Microcentrifuge Tube Rack
1. KINNOSE Rack Holder for Microcentrifuge Tubes
Kinnose rack holder is best if you test samples like a nerd. You get three trays to keep your test samples organized, so check out their details.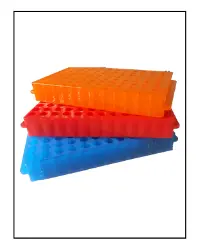 Features:
In each rack, you can store up to 96 microcentrifuge tubes at once, and counting all three, you get 288 holes.
The three colors are also different, so you know exactly where you have put the sample.
The holes firmly hold the sample tubes, and the overall build quality of the rack is durable.
It can fit 0.2 – 0.5 – 1.5 – 1.8 – 2.0ml microcentrifuge tubes effortlessly.
Not limited to the lab only, but you can also use it as a pencil or crayon holder and for some DIY projects.
---
2. Bio Plas 0061 Microcentrifuge PCR Tube Rack
Bio Plas comes in a different color, and the product is with the Amazon's Choice tag, showing the rack is worth investing in and its most microcentrifuge tubes.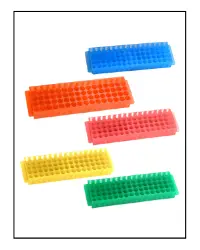 Features:
There are five racks with each 80-well microcentrifuge PCR tube rack.
It can accommodate 0.5mL, 1.2mL, and 2.0mL sizes of tubes.
You get five racks with different colors to differentiate between your samples.
The product is of a robust quality and definitely worth your money.
---
3. Heathrow Scientific Interlocking 4-Way Tube Rack
The Heathrow interlocking tube rack is the right choice if you don't want to settle with a single size and want more versatility.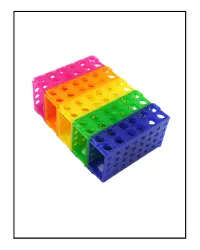 Features:
Each rack has a 4-way tube holder of different sizes, meaning it is not limited to only microcentrifuge tubes.
The entire set can be interlinked with no extra parts or accessories, or you can use them separately to get the maximum benefit.
From 1.5mL to 50mL tubes, you can fit in this rack; see the chart below to know how many wells are available for different capacities.
| | | |
| --- | --- | --- |
| Tubes | Wells | Wells Diameter |
| 50mL | 4 | 30mm |
| 15mL | 12 | 17.5mm |
| 0.5mL | 32 | 8.2mm |
| 1.5/2.0mL | 32 | 11.6mm |
---
4. Vial Rack Tube Double Panel
If it's the quantity you are after, the Vial rack is the best one to go for. You get five racks of five different colors with 96-wells per each. Not just the quantity but the build quality is also on par.
Features:
The material used by the manufacturer is sturdy polypropylene.
Its autoclave temperature is 250-degree Fahrenheit and 15-psi at 20 minutes.
The rack hole can tightly hold your microcentrifuge tubes and is suitable for lab and academics.
---
5. OLYCRAFT Holder for Chemistry Laboratory
Olycraft is not much of a famous brand, but it makes value-for-money products. It is a set of racks if you have so many samples to test at once.
Features:
These racks are best for holding 0.5ml, 1.5ml, and 2ml test tubes. In each rack, you can store total o 60-tubes at once.
It comes in five colors to help you organize your microcentrifuge tube.
It is safe to use because it is made of durable, non-toxic, and odorless plastic that is good for the environment.
The rack will work fine in the -68-degree Fahrenheit and 249.8-degree Fahrenheit.
---
Conclusion
There is no hard and fast rule or guide to purchasing a microcentrifuge tube rack as it has one simple application: to organize multiple samples in one place without any hurdles.
The only part you have to think about is how many racks you would need for your use; if the quantity is high, purchasing a set is the best option, and if you test samples casually, then a single rack should be enough.
Also, most racks are manufactured from the same material; all that differs is size, autoclave, and capacity.
I hope this article helps to purchase the right rack for your need. If you have any questions or suggestions, please comment them down below.
---
Frequently Asked Questions
What is the maximal volume of the microcentrifuge tubes?
The range varies from 0.5mL to 2.0mL. The best one that is highly used is 1.5mL.
Is there any other name for microcentrifuge tubes?
Microcentrifuge tube is a common name; however, some labs call it an Eppendorf tube, named after a company.
Do I need a microcentrifuge tube rack?
A rack helps organize all your samples; it holds them up straight, so you can rest easy and focus on the rest of the work. Having a microcentrifuge tube rack is necessary if there are a lot of samples you experiment with.