A centrifuge machine is vital lab equipment that helps separate content from a liquid sample; it could be a chemical composite or blood. In the medical testing laboratory, this equipment is permanent. However, there is not just one type of centrifuge such as gas, industrial, geotechnical, human, non-human, and many machines are available on the market.
In all centrifuge machines, a common type of mechanism is available that rotates the test tube containing test subjects.
Unlike any other equipment you buy depending on your budget, the case here is slightly different.
You have to define the use case and understand the specification of a machine you are going to purchase, so before you hop onto the best benchtop centrifuge, I recommend reading this guide first.
How To Choose The Best Benchtop Centrifuge
When you want to purchase a benchtop centrifuge, you need to define your requirements and understand the specification like motor RPM, RCF, and so, and one more thing to include is cost.
Define Your Use Case
The most well-known uses of this equipment are in medical and research lab settings. Micro, tabletop, high-speed, ultra, and hematocrit are the most frequently used in these sectors. Depending on the purpose, you have to select your machine.
For instance, ultracentrifuges are typically used in molecular biology to extract cellular components, such as DNA.
Technical Specifications
There are three essential things that you should look for
RPM and RCF
Device capacity
Easy to work with
RPM or rotation per minute shows how fast the motor will rotate. RCF (relative centrifugal force) is also a vital factor. It is a force that produces from the rotary motion of the rotor and helps separate the liquid.
You can't just put any amount of weight you like. The machine manufacturer defines the amount you can input.
The third point is how easy it is to use; try picking a machine with a simple control system and safety features to prevent converting a lab into a disaster place.
Cost
Price will vary from machine to machine depending on the specification and type. Also, the note if you pick a device with more RPM, that means it consumes more electricity.
Moreover, there are machines sold with or without a rotor. If it is without a rotor, you have to purchase it separately.
I suggest making a good one-time investment to avoid accidents without compromising the segmenting process.
---
Best Benchtop Centrifuge
1. NEWTRY Electric Benchtop Centrifuge
Newtry is my first choice considering its affordability and the audience group it is manufactured for; it is a perfect benchtop centrifuge for a student laboratory and an individual with an in-house laboratory to experiment with different samples.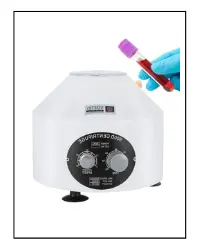 Features:
The plastic shell is durable, and there are knobs to control the rotary motion as required; it's simple to use.
The motor and components are tightly fit inside to offer the user a stable operation for the sedimentation process.
It can fit up to 6 tubes with each capacity of 20ml, and make sure to put tubes symmetrically.
The RPM range is from 0-4000, and you can see the rotating tubes from the transparent lid.
The centrifugal force output from the higher rotation gives satisfactory results.

---
2. Soiiw Electric Lab Benchtop Centrifuge
Soiiw is a runner-up here. It is a box-shaped device that sits perfectly on any table and has simple control, making it an ideal choice for a lab, be it a small or a school lab. If you expect more stability from the machine, then Soiiw is preferably the one you need.
Features:
The fixed-angle design of our centrifugal machine can lower the metal's stress, prolonging its lifetime.
It's the most convenient machine; there are control knobs on the front, and you can regulate time and speed.
The highest rate it can reach from zero is 4000 RPM, and it can rotate six tubes with each capacity of 20ml at once.
You can use this machine in various fields like biology, medicine, chemistry, etc.

---
3. Vision Scientific Digital Benchtop Centrifuge
I know it's in a third position, but it's not bad; you get better RPM and more features than the upper two; however, the price is also a factor. Check out how its features will benefit you to judge this machine by yourself.
Features:
The machine comes in a sturdy build, and you also get 100 pieces of 15ml tubes explicitly designed for this machine.
It is perfect for routine applications in hospitals and research laboratories.
Its motor provides the highest RPM, and the LCD display can be between the RPM and RCF settings as required.
It can handle up to eight 15ml conical or glass tubes with screw caps.
There are buttons for everything to change the time limit and set the speed, and the option for a short spin.

---
4. DEJUN Benchtop Centrifuge
The DEJUN has achieved nearly a 5-star rating from the consumers, and the machine works on a principle, quality comes at a cost. It's a low-speed machine you might like to have inside your lab, considering you are looking for quality.
Features:
It is a PRP centrifuge with an aluminum alloy rotor that ensures durability, efficiency, and temperature control.
The motor inside is brushless, but it is not the carbon brush, meaning the motor will last longer.
It has an easy digital display and microcomputer control with automatic RCF calculation and setting.
It is a low-speed tabletop centrifuge that operates quietly, with slight vibration.
You can set up speed, centrifugal force, and time. You can change settings during operation to achieve an excellent centrifugal effect.

---
5. ONiLAB Benchtop Centrifuge
If you need a stress-free machine with some automation and notification feature, the ONiLAB machine is the perfect choice you can opt for; it has a plethora of good features which makes your lab life more effortless.
Features:
It has a robust cast iron base, high-quality ABS casing and rotor, and vacuum suction feet for stability.
The lid opens automatically with an alert sound when one operation is completed successfully.
You can set two programs using the function keys P1 and P2 given on the machine.
The RPM range for this machine is 300-5000, and the RCF is 2400 x g.
It can hold a maximum capacity of 15mL/10mL/7mL/1.5-5mL/6 tubes.

---
Conclusion
These centrifuge machines you saw in this article are benchtop, reliable for individual, small or big research labs, and school labs. All the products you see are the best in some places; some have features, and some are more affordable and reliable; I leave the choice to you. I recommend going through the buying guide several times to make a good purchase decision.
Still, if there is something you want to know related to this article, kindly comment.
Frequently Asked Question
What is the use of a Benchtop centrifuge?
A benchtop centrifuge is suitable for separating blood cells, protein work, DNA/RNA research, and more. The most common reason is to separate the particle from the dense fluid.
Are all centrifuge machines the same?
Segmentation is common amongst all but not all centrifuge machines are the same; some will have higher RPM, few have more features, and most importantly, there are several types of machines for a defined use.
What is the simple definition of the centrifuge?
The process of centrifugation involves rapidly spinning molecules in solution around an axis (in a centrifuge rotor) to separate them based on their densities.