pH buffer powders or calibration solutions are very important for checking pH using an electrode and a meter. You can make these powders and solutions yourself too but the downside is that they may not be stable or accurate. This will reflect directly on the result. That is why it is always safe to purchase the right pack of pH buffer powders and use that instead. These powders are formulated by professionals and promise accuracy each time. 
Why should you calibrate a pH meter?
pH buffer powders help calibrate a pH meter but why must you do that? There are multiple reasons behind this:
It keeps the reading accurate.

It adjusts the electrode as and when required because they tend to change as they age.

It alerts you when there's damage or if there's dirt on the electrode. This indication will help you change the electrode immediately, thereby saving your experiment.
Types of pH buffer powders
There are 3 standard types of pH buffer powders, often sold in packs. They are 4.01, 6.86, and 9.18. The solutions used are potassium hydrogen phthalate, mixed phosphate, and borax respectively. You will note that each pack includes acidic, neutral, and alkaline powders. 
You can use these powders to make 250ml solutions to be used in experiments. Solutions are also available, which you can purchase directly but quite a few scientists prefer working with powders.
pH buffer powders
We live in a wonderful world where nothing's out of reach. You can purchase pretty much anything you want without having to step out and hopping from store to store for products. To make the shopping process even more easier for you, we have shortlisted some of the top pH powders available at the moment. 
1. Nynelly 15pcs pH Meter Buffer Solution Powder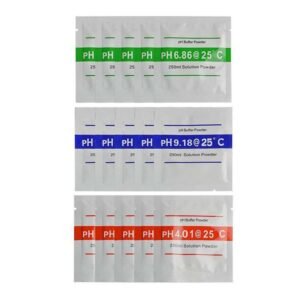 This pack of 15 packets from Nynelly is Amazon's Choice because of its reliability, value, and accuracy. You will get 5 packets each of 4.01, 6.86, and 9.18 pH with the following features:
The powders are very easy to use. You just need 250ml of distilled water per packet. 

You can use the powders with almost all pH meters for accurate and precise results.

They are packed individually so that they stay fresh for long and are ready to use when the need arises. 

They are pre-measured carefully by professionals and under strict conditions so that the outcome is perfect.

They have the ability to stay stable for prolonged periods of time and are accurate within 0.01 pH units.

---
2. pH Calibration Powder Packets – 20 pcs
The pack of 20 pH calibration powder packets from DuvinDD consists of 6.86 and 4.01 pH units only. You will not receive 9.18 pH powders in this pack. If that's what you have been looking for, you can pick this one up immediately. Here's why:
They provide an accuracy of around +/- 0.01 pH units.

They have been sealed individually in moisture-proof packets so that they are fresh when they are opened. 

The powders are extremely easy to use. Simply empty the contents of one packet in 250ml distilled water and stir. You will get a perfect pH buffer solution in a few seconds.

The powder is suitable for all pH testers and pH meters.

Since these powders have been put together by professionals under strict conditions, you can expect top quality.

---
3. 15-pack pH Buffer Powder for pH Meters
Very easy to use and accurate, this pack of 15 pH buffer powders works with almost all electronic pH meters and comes with the following features:
This is a complete package, which means you get 5 sachets each of 4.01, 6.86, and 9.18 pH powders.

They are measured and put together by professionals. So, you don't have to measure them during usage. Simply pour the contents of one packets into 250ml of water and you will be ready to roll.

These powders are suitable for testing the balance of pool water, hydroponics, spa, RO system, and drinking water. But, they have other applications as well.

The manufacturers advise frequent calibration for accurate results.

The powders have been designed for portability and are sealed in moisture-proof packaging.

---
4. 24-pack pH Buffer Calibration Solution Powder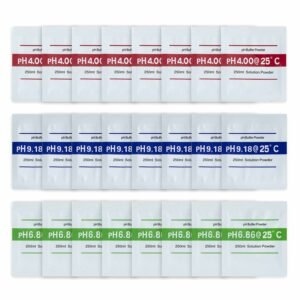 With these powders you can precisely calibrate pH meters. They are made of premium quality materials under strict conditions. Read on to find out more: 
The powders are carefully measured and packed in separate packets, ready to be used. Each seal is moisture-proof.

You can use the powders one at a time, right out of the pouch. Simply mix them with 250ml distilled water and wait for a few seconds until the powder dissolves.

These powders come in handy to test the pH of drinking water, RO, pool water, aquarium, wine, and beer.

The packs are portable and suitable for travel. They will work with all electronic pH meters.

Out of the 24 packets, you will get 6 packets each of 4.01, 6.86, and 9.18 pH powders.

---
5. 15-pack pH Meter Buffer Solution Powder 
We started our list with an Amazon's Choice product and we will end with one too! These are extremely accurate powders that will not disappoint you. You can take our word for it and go through what the package has to offer:
All powders are packed individually in moisture-proof seals so that they remain fresh and not influenced by elements. 

They work with pretty much all pH testers and electronic pH meters.

The calibration powders have been made under strict conditions to be accurate and precise.

You can test the pH of water very easily with these powders.

They are easy to carry and store, and do not require heavy maintenance.

---
Conclusion
Whichever powder you pick from our list, we are positive you will be satisfied. They are all tried and tested, and have given superior results. If you have any questions, please feel free to reach out to us.