Sample analysis is one such process that requires utmost precision and accuracy. Spectrophotometry is a branch of electromagnetic spectroscopy that helps with the qualitative measurement of the samples by measuring the reflection and transmission properties of the concerned sample over a specific wavelength range. Spectrophotometers are the instruments that are used for this quantitative analysis of the compound. 
As each compound absorbs, reflects or transmits light over a range of wavelength, the spectrophotometers measure how much the compound absorbs or transmits these wavelengths. The instrument is widely used for chemistry, biology, biochemistry, chemical engineering, clinical studies and much more. These spectrophotometers are useful to examine the samples and to determine their properties.
Finding the right spectrophotometer can be a task for someone new to such a field. For helping you find the best spectrophotometer for labs, we have curated a list of top-rated spectrophotometers in this blog post that are readily available. Check our picks for investing in the best spectrophotometer below: 
Best Spectrophotometer
1. Gdrasuya10 Spectrophotometer
Our first pick for getting a spectrophotometer that can be a perfect fit for small laboratories is this one by Gdrasuya10. The wavelength range for this instrument is 350-1020 nm. This instrument operates on the achromatic czerny-turner optical system. It has an excellent metering accuracy and one of the best economical instruments available in the market with RS232 interface output. 
Key features and Specifications:
The instrument is made using originally imported tungsten to ensure longevity and durability.

It has a large sample room as it can hold up to 10cm cuvette, making it ideal for medical testing, petrochemical industries, laboratories, monitoring and more.

This spectrophotometer also has an optional output of RS232 that can be connected to the printer or computer for viewing the samples.

The spectrophotometer has an automatic light door and zero automatic adjustment. 

It also has a digital display for the measurement values.

---
2. BestEquip Visible Spectrophotometer
Our second recommendation for getting a durable and fully functional spectrophotometer is this one by BestEquip. This instrument uses CT grating monochromator optical system and has a photometric accuracy of 1.0%. This accuracy is higher than the other instruments available in the same range. It has a digital display for the measurement values. This spectrophotometer is ideal for using it for medical, petrochemical, environment and other monitoring samples. One can get this spectrophotometer if they are looking for visible range spectrophotometer specifically.
Key features and Specifications:
This spectrophotometer features a high-sensitivity photoelectric converter that ensures the high resolution.

It is made using imported tungsten lights and has a wavelength range of 350-1020nm.

This spectrometer is portable, and 100mm cuvettes can be used with it.

One can get this spectrophotometer for sugar mills, power plants, water plants, testing samples and much more. 

The instrument also has an automatic light door and automatic zero adjustment one hundred instrument calibration. 

The converter on this instrument ensures high luminosity linear and low stray light.

---
3. Rbaysale Visible Spectrophotometer
Our next pick for getting a spectrophotometer that is durable and worth your money is this one by Rbaysale. The spectrophotometer is used making imported Tungsten lamps that add to the longevity. The manufacturers have added many features like storage, wavelength adjustment and improved display to make it more user-friendly. The automated light doors in this instrument make it a perfect fit for labs. One can get this spectrophotometer for medical testing, food, petrochemical industries and much more. 
Key features and Specifications:
The spectrophotometer is equipped with an LCD, and it immediately displays the accurate readings.

As it has an automatic light door function, it can easily capture the light waves whenever you want.

It has an automatic data storage function and automatic wavelength adjustment function. 

The instrument is also equipped to reset the data to zero and to improve the accuracy of the test. 

It features a large sample chamber for cuvettes that can make your sample analysis convenient.

This spectrophotometer has an RS232 port that can be connected to a printer or a computer to record the measurements and observations. 

---
4. Scenstar Visible Spectrophotometer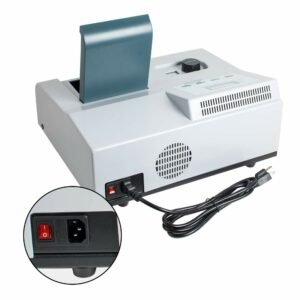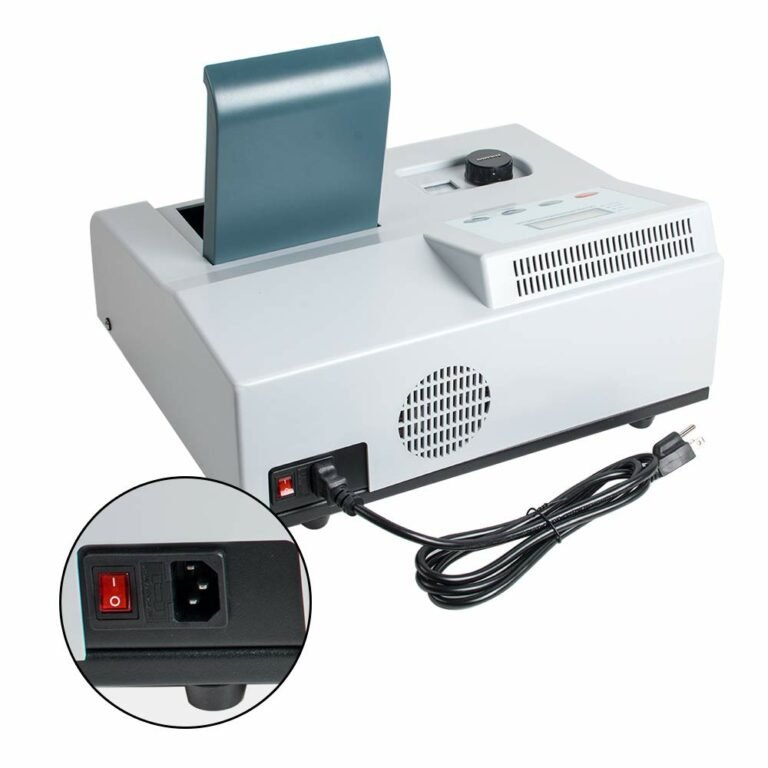 The last option on this list to get yourself a spectrophotometer is this one by Scenstar. Similar to other options, this instrument is also made using imported tungsten that makes it more durable. It is suitable for clinical examination, biochemistry laboratories, petrochemical industry, quality control, medicine and much more. We would highly recommend this option for the students or researchers searching for the best uv vis spectrophotometer. 
Key features and Specifications:
The spectrophotometer has a digital display to show measurement values.

It is equipped with an automatic light door that can be helpful for quick sample analysis.

This spectrophotometer is ideal for both quantitative and qualitative analysis of the specimen materials in ultraviolet as well as visible range.

The instrument is equipped with a zero and hundred adjustment equipment calibration. 

---
Concluding Remarks
All the spectrophotometers listed above are of topnotch quality and are equipped with all the needed features. Most of these spectrophotometers are made with imported tungsten that makes them durable and value for money. It is suitable for the people who want to set up their labs or want to carry out sample analysis. 
These spectrophotometers can also be used in college and universities as all the instruments are quite accurate. So depending upon your budget and what all features you are looking for, you can make a choice. We would recommend the second option of spectrophotometer by Bestequip. It is equipped with all the features one might need to carry out the qualitative and quantitative analysis of the specimens. 
Apart from that, make sure to always invest in good quality cuvettes for these spectrophotometers and clean them after every use. The options suggested above come with a manual book that can help you with calibration, maintenance and knowing the functionalities of this instrument.