If you are someone working in a research field or even a chemist conducting experiments, you know the importance of multichannel pipettes. These pipettes are different from the single-channel pipettes. Generally, people use multichannel pipettes when the protocols are finalized, and one is looking forward to scaling their experiments. 
These multichannel pipettes help in increasing productivity and reduce the time required to complete the experiment. These multichannel pipettes can be used for 96-titer plates. Having these pipettes can speed up your experiments and also help you with doing serial dilutions. And after going through many options, I have curated a list of the top five multichannel pipettes. 
Best Multichannel Pipette
1. Nextirrer 50-300µl Multi-Channel Adjustable Volume Pipettes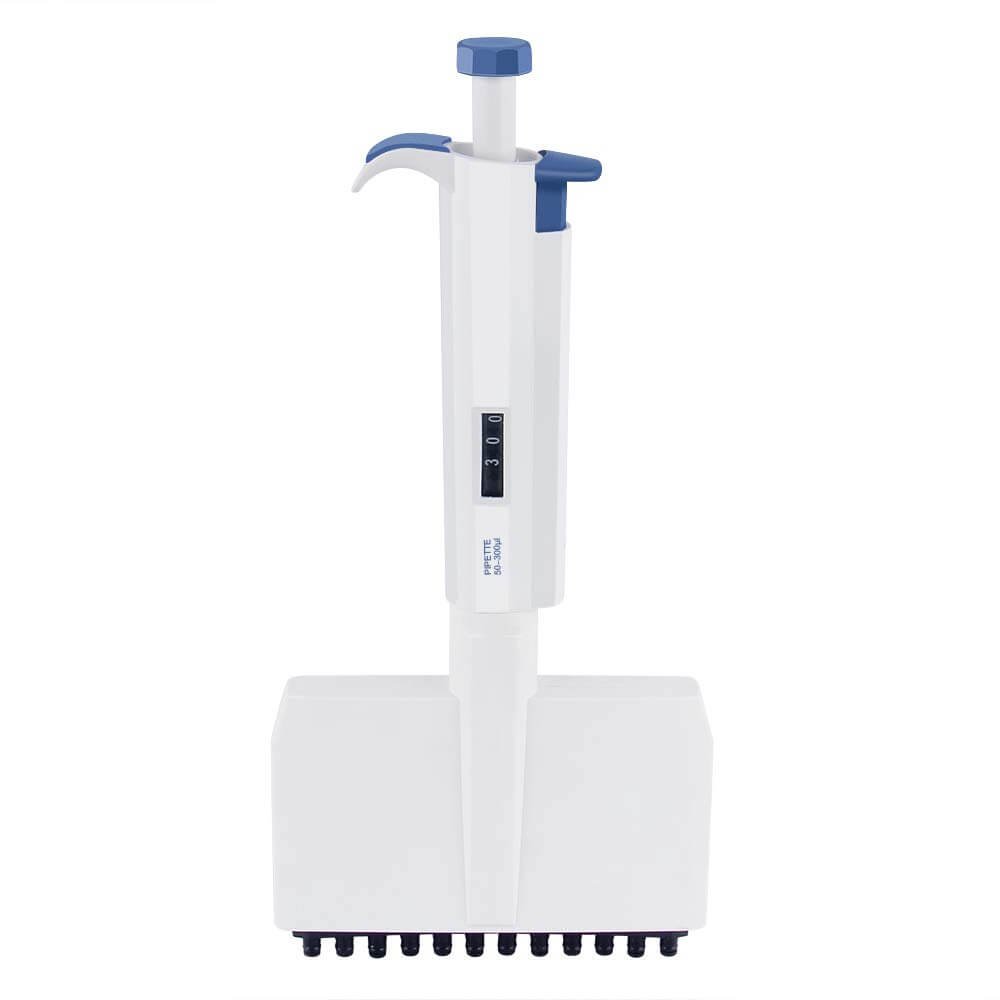 The first recommendation for getting a multichannel pipette that is well-built and easy to use will be this one from Nextirrer. The pipette features 12 channels and a piston that can be rotated with ease by selecting the dispense volume. One can use this pipette with several solutions. The low plunger design, ejection tips, and ejection forces prevent strains and injuries caused due to using this pipette for long hours. One can easily calibrate this pipette and use it with utmost comfort as it has a smooth thumb operation. 
Key features and Specifications:
This adjustable multichannel pipette has an ergonomic design featuring a low plunger pressure to avoid strains and injuries.

It is lightweight and can be controlled quite conveniently.

This particular pipette has a volume range of 50 to 300 l. 

The digit display on this pipette helps set the accurate volume setting and aids in easy identification of the tip's volume.

One can easily change the tips by using the tip ejector provided on this pipette. 

This multichannel pipette is calibrated to ISO 8655 standards to ensure its accuracy and precision.

 

---
2. Scilogex MicroPette Plus 12-Channel Pipettor
If you are searching for an adjustable multichannel pipette with a range of 0.5-50µl, then you can opt for this pipette. This 12-channel pipette is relatively easy to use as the volume can be adjusted by turning the thumb plunger. It is lightweight and has an ergonomic design to make it easy for students and professionals to use without suffering from any injuries or strains. The pipette is calibrated as per the International standards organization. And the manufacturers have mentioned that each of their pipettes has to pass a calibration test before it is ready for sale. The calibration/quality control certificate is also provided with this pipette. 
Key features and Specifications:
This multichannel pipette has a clear digital display that can help you know the volume in the tip.

It can be calibrated and maintained well with the tools that are provided with this pipette. 

The pipette features an individual piston, which makes it easy to repair and maintain the pipette.

As this pipette has an integral tip ejector, one can access the narrow tubes with ease. 

One can use it with universal pipette teams, and as it has an autoclavable tip cone, you can autoclave it when required. 

This multichannel pipette comes with a three-year warranty. 

---
3. Vision Scientific Adjustable Volume Multi-Channel Micropipette Pipettor
My next pick for getting the best multichannel pipette would be this one by Vision Scientific. This one is also a 12-channel pipette having the range of 30-300µl. This can be a perfect fit for your laboratory work given that it is lightweight and one can multitask with it.  Its tip cone has an optimized design making it compatible with a range of tips from different brands. What I found impressive about this pipette is that it is suitable for both right-hand and left-hand operators. The pipetting operations are swift and do not cause any finger strain. 
Key features and Specifications:
The multichannel pipette features an ergonomic finger rest that helps take the load off the hand, preventing fatigue and strains.

It is resistant to strong chemicals and UV.

This multichannel pipette is designed for single-hand operation, and one can also use it to make serial dilutions or even fill plates for cell cultures. 

It also has 4-position volume settings to adjust the volume as per your requirement.

The volume display given on the pipette can help you know the accurate volume in the tip.

The pipette is completely autoclavable at 121 degrees celsius. 

---
4. Four E's Scientific Multichannel Pipette
Are you searching for a multichannel pipette that comes in various volume ranges? Then this can be your best pick! Four E's Scientific is a known and trusted brand for supreme quality pipettes and other laboratory instruments. This particular multichannel pipette comes with three volume range options of 0.5-10µl, 5-50µl, and 50-300µl. It only needs a lower operating force. The lightweight handle design and the low plunger get this pipette extra brownie points for its overall design. It is also calibrated to ISO 8655 standards for precision and accuracy. 
Key features and specifications:
This multichannel pipette comes with the option of an 8-channel pipette and a 12-channel pipette.

The high-tech material used in making this pipette provides this pipette resistance from corrosion, high temperature, and other such external factors.

The pipette also features a digital display to ensure an accurate volume setting and also helps to identify the volume in the tip. 

The tip ejector on this multichannel pipette makes it convenient for users to change the tips quickly.

One can also calibrate and repair it with the tools provided with this pipette.

The lower section of this pipette can be autoclaved at 121 degrees. 

The multichannel pipette comes with a one year warranty.

---
5. Walfront Multichannel Pipette
The last recommendation for adding a multichannel pipette to your lab is this Walfront Multichannel pipette. This is an 8-channel pipette with a volume range of 50-300µl. It is easy to operate, lightweight, and can be used in various types of experiments. One can easily distinguish this pipette from others as it comes with replaceable piston-covers in five different colors. 
Key features and Specifications:
The pipette has a digital display for easy volume identification to pick up the precise amount of liquid.

The high-quality materials used in its making protects it against corrosion and high temperature.

As it has an ergonomic design and low plunger, it doesn't cause any injuries or strains while using it continuously.

The pipette is easy to operate with a single handle, and it also comes with a calibration tip.

It has an easy piston button to dispense the volume in the tip.

---
Concluding Remarks
Buying a multichannel pipette can help you with so many types of experiments, be it immunological assays or cell cultures; these pipettes are time-savers and saviors for the people working in laboratories. I curated this list of the best multichannel pipette to help you with finding the options that are worth your money. All of these options mentioned in this list are made with high-quality materials, easy to operate, and have a digit display to pick up the accurate liquid volume.  
My best pick would be the fourth option – Four E's Scientific multichannel pipette as you get options to choose in both the number of channels as well as volume ranges. Apart from that, all other multichannel pipettes also perform well and serve the purpose.